Back to ELC Home
Eleventh Annual Colloquium on Environmental Scholarship
SEPTEMBER 26, 2020
Vermont Law School will host the Eleventh Annual Colloquium on Environmental Scholarship on September 26, 2020. Due to the pandemic, this year the colloquium will take place virtually. This event offers environmental law scholars the opportunity to present their works-in-progress, to get feedback from their colleagues, and to meet and interact with those who are also teaching and researching in areas related to environmental and natural resources law, or any related specialty areas.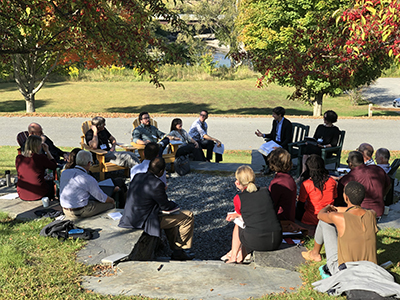 Beautiful weather brought panelists outside, 2019.
Selected participants will be required to submit a paper draft no later than September 4, 2020, and all participants will be asked to provide commentary on another participant's paper draft at the Colloquium. Final papers will also be eligible for publication consideration in the Vermont Journal of Environmental Law.
2020 Schedule
This year's event will take place online for invited participants only on Saturday, September 26th at Eastern Times:
11:00 - 11:20am: Welcome Remarks
11:20am - 12:50pm: First Panel Session
12:50 - 1:30pm: Lunch Break
1:30 - 3:00pm: Second Session
3:00 - 3:15pm: Break
3:15 - 4:45pm: Third Session
4:45 - 5:00pm: Wrap up
For more information on the Colloquium
Please contact Courtney Collins at ccollins@vermontlaw.edu or at (802) 831-1371.