Back to ELC Home
Submit Abstracts for Consideration
If you are interested in presenting a paper at the Colloquium, please submit a working title and abstract of 200-300 words no later than May 31, 2023. For an abstract to be eligible for submission, the author must anticipate that the paper will be a true working draft (neither published nor so close to publication that significant changes are not feasible) by the date of the Colloquium. We will do our best to notify authors about acceptances by mid June.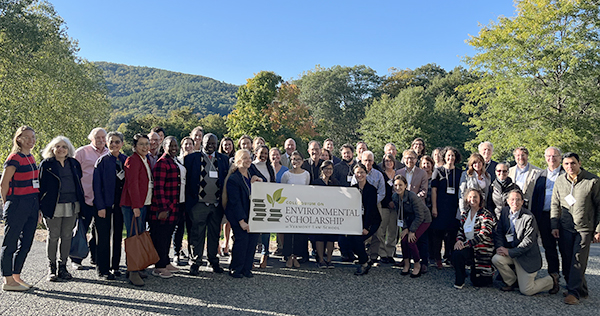 2022 Participants pause for a group photo on the Debevoise back lawn at VLS.
All selected participants will be required to submit a paper draft no later than September 5, 2023, and all participants will be asked to provide commentary on another participant's paper draft at the Colloquium. Final papers will also be eligible for publication consideration in the Vermont Journal of Environmental Law.
For more information on the Colloquium, and if you need assistance uploading your abstract, please contact Courtney Collins at ccollins@vermontlaw.edu or at (802) 831-1371.