The Morrill Land-Grant Acts and Tribal Lands: What Happened, What's Next
Twyla Baker, President, Nueta Hidatsa Sahnish College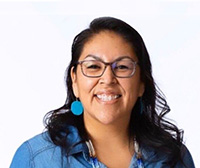 Twyla Baker lives and works on her ancestral homelands on the Fort Berthold Indian reservation in northwest North Dakota. She is the President of Nueta Hidatsa Sahnish College, the Tribally chartered college of the Three Affiliated Tribes. Twyla's work touches a broad swath of her home reservation, and serves a number of stakeholders, including students, Tribal members, community members, and the state and region. Focusing energy on keeping her team members healthy and high functioning in a high-stress work environment is key in meeting these demands, and can be difficult, given that the campus is located in a rural, remote area with few services supporting workplace wellness. Using the traditions and values of her tribal people, Dr. Baker wishes to build a Culture of Health on the campus of Nueta Hidatsa Sahnish College to support holistic health and wellness for her team.
Rich Holschuh, Spokesperson, Elnu Abenaki tribe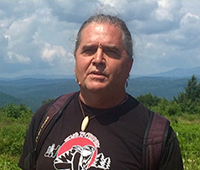 Rich is a resident of Wantastegok (Brattleboro, VT) and immersed in the stories layered within this landscape. He has served on the Vermont Commission on Native American Affairs and is a public liaison and Tribal Historic Preservation Officer for the Elnu Abenaki, members of the contemporary Native community. Rich is founder and co-director of the Atowi Project. His work draws upon history, linguistics, geography, and culture to share beneficial ways of seeing and being in relationship with place.
Robert Lee, Assistant Professor of History, University of Cambridge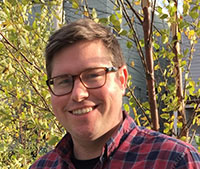 Robert Lee is an award-winning historian of the United States focused on the intersection of Indigenous dispossession and US state formation in the nineteenth century American West. He has a PhD in History from the University of California, Berkeley, an MA in American Studies from the University of Heidelberg, and a BA in History and Economics from Columbia University. Before joining the faculty at Cambridge, he was a junior fellow at the Harvard Society of Fellows.
Tristan Ahtone (Kiowa), Editor at Large, Grist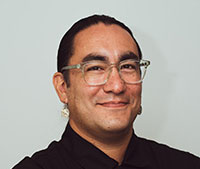 Tristan Ahtone is a member of the Kiowa Tribe and is Editor at Large at Grist. He previously served as Editor in Chief at the Texas Observer and Indigenous Affairs editor at High Country News. He has reported for Al Jazeera America, PBS NewsHour, National Native News, NPR and National Geographic. Ahtone's stories have won multiple honors, including investigative awards from the Gannett Foundation and Public Radio News Directors Incorporated. He additionally led the High Country News team that received a George Polk Award, an IRE Award, a Sigma Award, a Society of News Design Award and a National Magazine Award nomination. A past president of the Native American Journalists Association, Ahtone is a 2017 Nieman Fellow and a director of the Muckrock Foundation.
Hillary Hoffman, Co-Director, Bears Ears Intertribal Coalition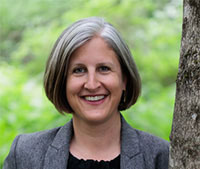 Professor Hoffmann's areas of expertise include environmental law, federal Indian law, and natural resources law. Her scholarship analyzes the systems governing natural resource uses on federal and tribal lands and explores the conflicts that arise from Constitutional and other legal challenges facing indigenous nations and indigenous peoples in the United States. She has also lectured and published extensively on the topics of energy development, mining, livestock grazing, and other extractive uses of public lands and tribal lands. Her recent book, law review articles, and amicus briefs have focused on some of the most high profile controversies at the intersection of environmental law and federal Indian law, including the Dakota Access Pipeline, the Bears Ears National Monument, and energy mineral withdrawals on public lands and submerged lands.
Professor Hoffmann teaches a variety of classes, including specialty environmental law and restorative justice classes. Her Utah Field Study class is taught on location in southern Utah and uses an experiential approach to teach students about the laws governing protected public lands (national parks and national monuments), unprotected public lands (BLM and state school trust lands), and the unique prospects for tribal environmental governance proposed by President Obama's proclamation creating the Bears Ears National Monument in 2016. Her Truth and Reconciliation class uses Vermont's nascent efforts to reconcile state-sponsored human rights violations against Abenaki peoples as a framework for discussing Truth and Reconciliation in other North American regions and around the world.
Prior to joining the faculty at Vermont Law School, Professor Hoffmann was in private practice at a large law firm in Salt Lake City, Utah. Her work included general commercial litigation, administrative appeals, and state and federal natural resource cases. She represented a wide variety of clients in state and federal court, and before the Department of Interior's Office of Hearings and Appeals. Professor Hoffmann received her BA in Spanish literature with high honors from Middlebury College and her JD from the S. J. Quinney College of Law at the University of Utah. In law school, she was a William H. Leary Scholar, the Richard L. Dewsnup Fellow in Natural Resource Law, and a member of the Utah Law Review. Professor Hoffmann is licensed in Utah and Vermont and is admitted to the Vermont Supreme Court, the Utah Supreme Court, the federal district courts for the districts of Utah and Vermont, and the Ninth Circuit Court of Appeals. She is a member of the Vermont Commission on Native American Affairs and the American Law Institute.